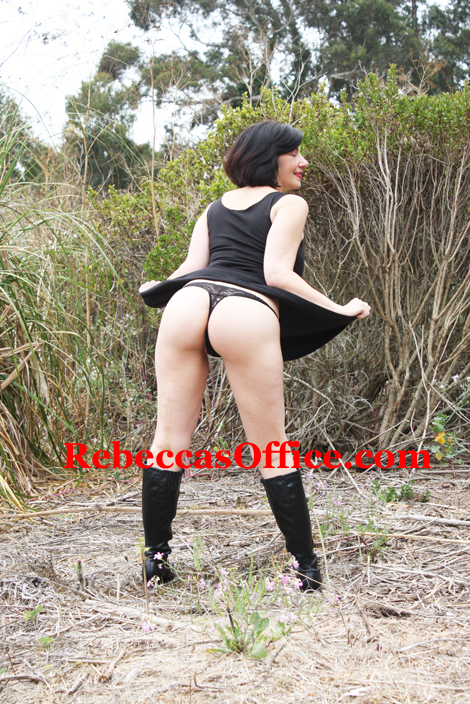 (Note from Rebecca) Often I have member's tell me or write me their fantasies.  Recently a member told me after 10 years what his fantasy was and that he wanted to pretend he was "Mr. RebeccasOffice".  I laughed, but when he told me and then sent me a wonderful donation and a dress to wear, I was flattered and said sure. What you are about to read is not the normal update summary from me, Dreamnet, or my husband, but are the unedited words of a member's fantasy.  I also wanted to let you know that I am sorry for the lack of blue skies in these photos.  It is not LA smog, but rather the fires that are about 150 miles to my north.
Rebecca is the perfect slutty milfy wife and I love sharing them with you here on the pages of Dreamnet.  What is really special is that she doesn't need to do this, but has become such a good submissive little whore for me. Watching my upper-middle class highly educated wife become a wanton slut over the past dozen years and sharing her pussy with all you strangers.  What is better is that whereas once she used to resist being sexy, she now craves being the whore that she is.  It is every man's dream to have such a hot wife and sharing her with all of you guys.
I thought I would share some real naughty secrets about Rebecca that you should know about.  I have had to really pusher limits and behind the scenes you probably have no idea what a cum-sucking slut I live with.  I know that our neighbors would never guess, but all of you would never guess what it is like living with her.  She is even naughtier than the pages you see here.
CLICK HERE TO LEARN SECRETS OF REBECCA
.